Arts
Middlesex Valley Primary School
January 2019: First grade students being innovative creating the systems of the body with various art materials.
January 2019: Kindergarten students using STEAM materials to retell the story of "The Three Billy Goats Gruff."
Gorham Intermediate School
4th grade trombonists practicing from the new smart board. Reading music just got easier!
Marcus Whitman Middle School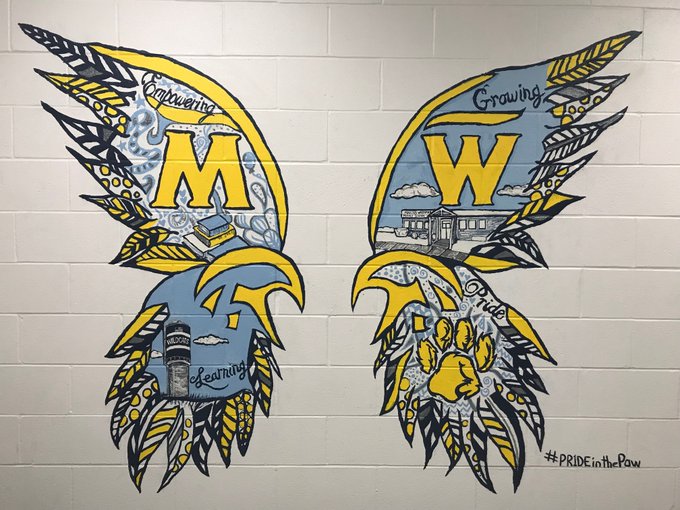 The middle school mural is complete!
Marcus Whitman High School
Art Happenings
-Austin Kephart
Despite the renovations around the school, Mr. Rowe and the Art Department still have exciting plans for the upcoming 2019-2020 school year. The various art classes the High School offers are currently spread across the Board Room turned Mac Lab as well as a spare room which has been temporarily converted into an art room. When asked about the move, Mr. Rowe said "[the move] has been a challenge but everyone is very excited about our new room." The room he's referring to, which will be ready by the end of the Holiday Break, is planned to have major renovations such as removed walls and a kiln right in the High School. Other additions include completely new storage and workspaces with adjustable standing desks with wheels to replace the previous furniture. More pottery wheels are planned to be added as well as the installation of more display cases in the Art & Music Wing. This nearly triples the space for art to be shown. Despite the chaos, Mr. Rowe is planning on submitting student work to both the Yates and Ontario County art shows this year, as well as holding the annual Marcus Whitman District Art Show, which is held on May 19th along with Senior Project presentations, the Budget Vote, a chicken barbeque, and more. These three shows will highlight the artwork of various mediums such as drawing and painting, digital art, and photography. The art department has been having a great year so far!